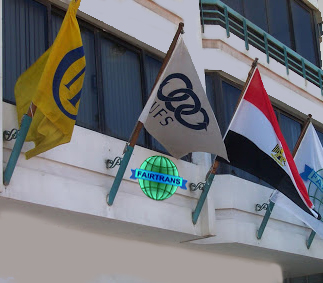 Fairtrans Marine, Trading & Forwarding S.A.E. is one of the leading specialized shipping companies in Egypt, established in 1979 with head office at Port Said and branch office at Suez, with the aim to attend vessels passing Suez Canal and calling at both Ports. The company now has other four branches at Cairo, 10th of Ramadan, Alexandria and Damietta.
Over the years the company has expanded its activities, especially when the Egyptian government allowed the private sector to participate in the shipping agency activities, back in 1998, where the company was pioneer to fulfill the Egyptian government requirements and obtain the shipping agency license. In addition to that the company has developed its freight forwarding and logistical services being as IATA cargo agent, FIATA and EIFFA member. Also the company is Bimco member since 1986. The company is ISO 9001/2000 certified by SGS since 2007. Fairtrans team has now reached around one hundred skilled employees working in all branches covering all company's activities.
In 1994 Fairtrans became a stock listed (limited) company, at Cairo and Alexandria Stock of Exchange, with a paid capital reached 8,000,000 Egyptian Pounds and authorized capital of 20,000,000 Egyptian Pounds. In 2008 the company board decided to withdraw from Cairo and Alexandria Stock of Exchange and choose closed stocks activity. The company activities are insured with overall limit of the policy USD 500,000.
The company is proud to be one of the leading liner agents which started handling transshipment containers in Egypt, where Fairtrans was pioneer to realize the importance of Port Said and Egypt location as a hub for the Mediterranean cargo, and in fact has attracted some shipping lines to use this unique location, namely Contship Containerlines back in 1990 and Tricon (DSR Senator and Cho Yang) in 1994.
During the years the company built a solid history of representation for many reputable shipping companies most notably the following:

Unique Shipping HK 1979-1985
Unimar of Greece 1984-1989
Contship Containerlines 1985-2004
Americana Ships 1997-2001
Lykes Lines 1999-2004
TMM Lines 2001-2004
United Feeder Services since 1990
Interorient Navigation since 1990
Cargo Container Line since 2004
Asia Break Bulk 2007-2018
Oneway Venture Co., since 2017
Dship since 2019


As a result of our long professional history, the company is enjoying excellent reputation and connections among others with all competent authorities in which results positively on our daily working activities.
To download our Quality Policy ISO 9001:2015 click below links